Allergic Cold and Allergic Asthma is curable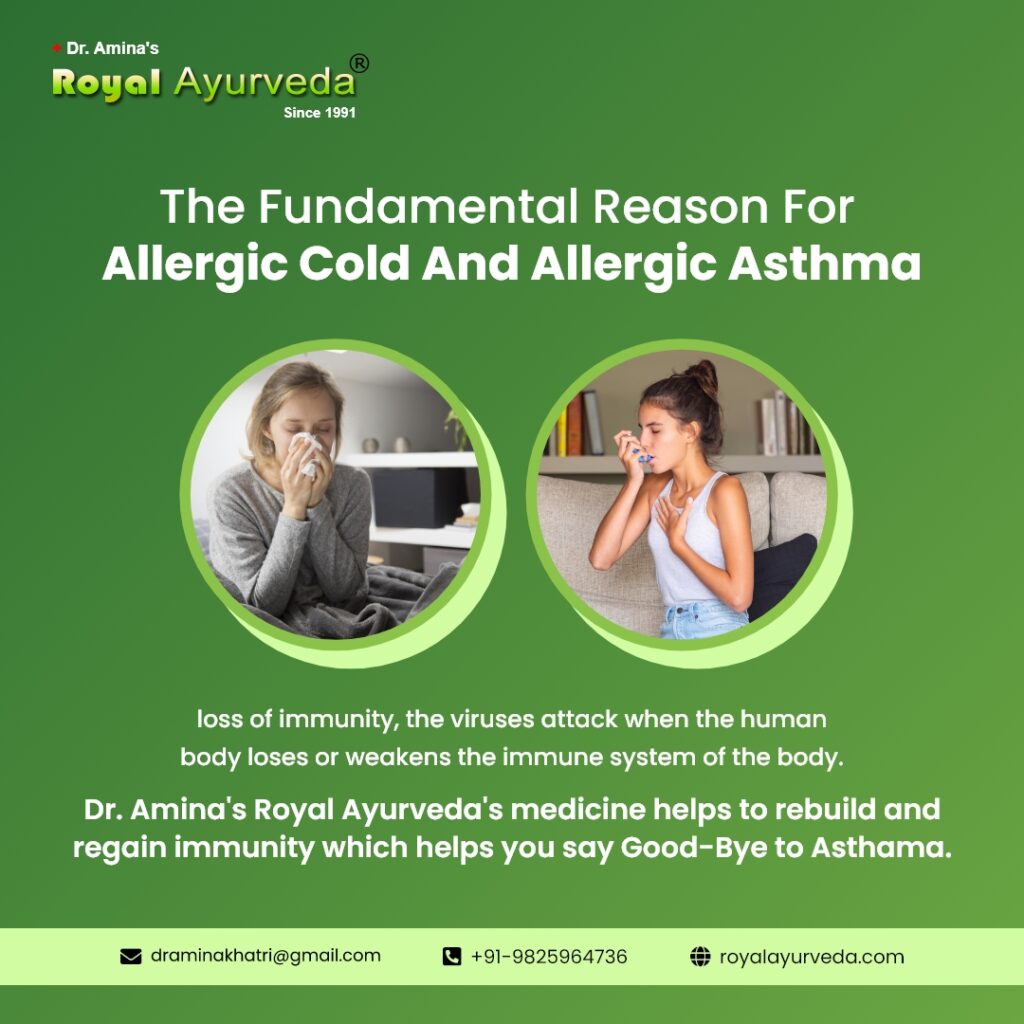 'CHARAK SANHITA' states Asthma chapter (swasrog adyay) after Anemia chapter (Pandurog adyay) and then it explains that the main reason for Asthma is Anemia
Thus it says that main reason for Asthma is blood weakness in the body
Thus here in CHARAK SANHITA blood weakness is nothing but loss of immunity. Therefore the fundamental reason for Allergic Cold and Allergic Asthma is loss of immunity .The viruses attack when the human body loses or weakens the immune system of the body.
The virus(antigen)  enters that human body and gets activated under the following one or more of the condition i.e. such person gets in touch with any one of the following condition:-
Too much cold,
Extreme heat,
Dust and pollution,
Pollens,
Any type of natural or synthetic fragrances,
By drinking cold or sour drinks,
Sudden mental stress,
Sudden shock etc.
The said activated virus (antigen) generally gets planted in the 'nasal membrane'. At that instance the antibody gets generated by the defense mechanism of the body.
The antibody fights with the antigen (virus) this war phenomena is termed as "antigen-antibody complex"
If the antibody is dominant over the antigen, it results in no disease
If the antigen defeats the antibody the body is attacked by the disease. The nasal membrane gets contracted which results in weakening of oxygen supply and thus the amount of carbon dioxide is increased.
The nasal membrane cells contain an amino acid namely histidine.Hence because of the increased carbon dioxide, it chemically reacts with histidine and generates a dangerous toxic substance called histamine. So nasal membrane becomes reddish in color and gets swollen and starts secreting mucus.
The above situation causes itching and blockage in the nose which causes sneezing and the nose stats discharging a lot of watery fluid.
The above phenomena and the resultant medical condition is called allergic cold
Sometimes the above situation results in nasal polyps and/or Deviation in Nasal Septum is called (D.N.S.)
Allergic Asthma
If frequency of the allergic cold increases then it produces a great amount of Histamine. The over Histamine production attacks and reacts on the nervous system of respiratory system. So the Collin present in the nervous system gets transformed into acetylcholine which stimulates the muscle fiber to contract in breathing pipe and resulting in breathing space being narrowed down. Therefore the patient gets difficulty in breathing this is called allergic asthma
TREATMENT:-
 Generally in allergic cold patient is treated with antihistamine which gives temporary relief however the patient again remains in the original condition of the disease when effect of antihistamine is over.
 In case of allergic asthma the bronchodialator is given to the patient the same again temporarily dilate the breathing pipe till its dilating power sustains and again patient remain in original condition of the disease
In our treatment for both above type of patient WE TRY TO REBUILT AND REGAIN THE IMMUNITY STRENTH AND ERADICATE VIRUSES WHICH ARE PRESENT IN THE BODY
Our treatment RESULTS in CURE and no chances   for reoccurrence of the said two types of diseases and patient enjoys the healthy life.
Treatment is available at Dr. Amina's royal ayurveda… Go to: Testimonial – Consulting